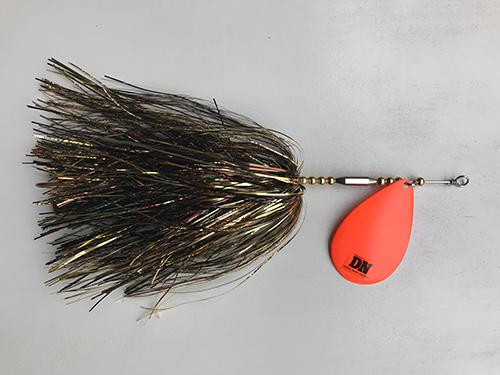 Musky anglers everywhere will say, "When in doubt, toss a bucktail."  We agree! Muskies cannot resist the Double Nickel Bucktail musky lures. The Double Nickel team understands the pursuit of muskies can be challenging, time-consuming, and frustrating, but "With Persistence Comes Success." Investing in quality gear gets musky fishermen one cast closer to reeling in a monster fish.
Double Nickel Outdoors specializes in great musky baits:
Field-tested
Catch-proven
Handmade to perfection
Awesome thump & vibration, which produce more hook sets
Sizes & colors for all seasons and lake clarities
100% Made in the USA
Double Nickel puts its experience and knowledge into every bucktail musky lure it creates. Every part of the bucktail is manufactured with quality in mind, to ensure the best chance to land a trophy musky. Not all lakes share the same preferred bucktail color scheme, so Double Nickel offers custom, made-to-order bucktails. Contact info@doublenickeloutdoors.com for a quote on custom orders or for information on reputable musky guide services on the Bay of Green Bay.
Ask for the Double Nickel Bucktails at tackle shops, sporting goods stores, and outdoors retailers in Wisconsin and Minnesota. A full line of bucktails is available at Double Nickel Outdoors convenient online store.