Pro Staff Biographies
---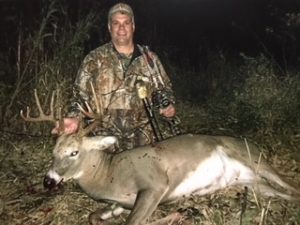 Scott Agamaite
Scott has been an avid small and big game hunter for over 40 years. He grew up in Northeast Wisconsin and began hunting at the age of 12. For Scott, hunting has greatly evolved over the years. His focus now is whitetail deer hunting in the archery and firearm hunting seasons. Not only does he enjoy the hunt, he and his family enjoy the taste of wild game. Venison is particular favorite.
Scott and his family own a piece of hunting land where Double Nickel food plot mixes are planted. The food plots support wildlife in the area, specifically benefiting the whitetail deer herd. Scott says that food plots are a great way to provide nutrition on an annual basis. Food plots contribute to the overall health of the deer herd – including antler growth. Double Nickel Outdoors food plot seed mix is the only seed Scott puts in the ground. He is confident that DN seed is the best quality, guaranteed to be fresh seed. In many areas of Wisconsin, baiting wildlife is illegal. As an alternative to baiting, food plots are an economical, legal way to provide food for wildlife.
Scott believes that being prepared for the hunt may be the most critical step to becoming a successful hunter. He has learned over the years that it's crucial to have the correct equipment for the species you are hunting, along with the appropriate outdoor apparel for the weather conditions. Before he heads into the field, he ensures that he has taken the time to sight in his bow or firearm for the distance within his comfort zone. When hunting mature whitetail deer, he carefully evaluates the wind direction and how it may impact a particular deer stand.
Scott encourages others to get into the woods for whitetail deer hunting. "Good luck on your hunting adventures," he says.
---
Josh VanFrachen
Josh lives, hunts, and fishes in Northeast Wisconsin. He is proud to be a member of the Double Nickel Outdoors Pro Staff.
Josh was introduced to fishing at a very young age. His family spent many summer hours out on the water enjoying the fresh air and beautiful scenery. The enjoyment for fishing turned into a passion. Josh puts an immense amount of thought into fishing, analyzing the time of year, locations, where the bait fish are, water clarity, and lure selection. His love of musky fishing has grown greatly with the years.  Living within 10 minutes of the waters of Green Bay makes his passion for the trophy musky even more prominent.
Along with fishing, hunting has been a family tradition for generations. The solitude of being one with nature and getting away from life's distractions and demands is something Josh truly enjoys. Providing whitetail deer with the best nutrition is very important. Wildlife food plots are an excellent and wallet-friendly way to provide the herd with all the nutrients needed for good lactation, healthy body size, and improved antler growth. Double Nickel Food Plot Mixes provide a wide variety of forage to achieve a healthy herd. Preseason preparation and hard work pay off when the opportunity comes to harvest a deer and provide food for his family.
---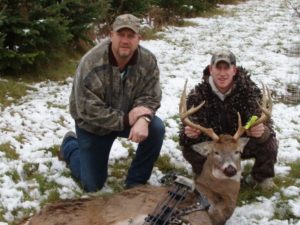 Kyle Hunsader
Kyle is an avid hunter and fisherman. His dad was an avid deer hunter, so he was introduced to hunting at an early age. Growing up, he can remember hearing his father tell him deer stories as bedtime stories.  Before he was old enough to hunt, he remembers his dad dropping him off in a ground blind on a field edge before his dad walked to his bow stand. Kyle didn't have a weapon but really enjoyed sitting in the blind watching for deer. Kyle's main passion is bow hunting. The highlight of his hunting career was when he shot his first Pope and Young buck with his bow. His dad was less than 100 yards away and heard the whole thing happen. "It was awesome to share the whole experience with the man that taught me everything about the outdoors," Kyle says.
Kyle started fishing later in life but quickly became hooked on the sport. His passion is muskies, but he also enjoys fishing for walleyes on Green Bay and salmon and trout on Lake Michigan. His preferred method to catch muskies is casting, but he takes to trolling in the late fall. The highlight of his musky career was catching his personal best musky. It was a September morning a few years back, and he was casting solo from his boat when he hooked into a 54.5-inch musky. After the wild and crazy fight, he somehow got the monster into the net. He took a few photos and measurements, then released the trophy fish so it could be caught again someday.
Double Nickel Outdoors food plot seed has produced some great food plots for Kyle, leading to rewarding results. The handmade bucktails have amazing thump and vibration which produce exciting hook sets. Kyle is excited to work with Double Nickel Outdoors because it's fun to share new product ideas and test new products. He plans to make many more great memories in the outdoors for years to come.
---
Tom Mathu
Tom has had a passion for hunting and fishing since he was very young. His dad introduced him to both.  It started with pan fishing and squirrel hunting as a 6-year-old and escalated quickly from there. He was always trying to go bigger and better. At 13, he started fishing musky tournaments with his dad, and pretty much fished strictly for muskies. The deer hunting started similar to fishing. He shot a few does and small bucks to get started. He and his father wanted to see the potential of some of those bucks, so the family started managing their property better. They added food plots and habitat, and they stopped harvesting the younger bucks. Watching the results was amazing! Seeing what one year does to a buck was amazing, and seeing what a food plot can do was very rewarding.
Fast forward to the present. Tom and his dad are still fishing musky tournaments all over Wisconsin. They target the monster muskies lurking in Green Bay and northern Wisconsin. They have caught plenty of fish over 50 inches in Green Bay, with 53 inches being the biggest casting fish. "I'm still looking for the elusive 'Up North 50,'" Tom says. Tom also fishes for brown trout and walleyes before the musky season is open. As for deer hunting, Tom and his dad's efforts and patience have paid off. The area continues to produce big bucks. The trophy room is looking great, with 5 whitetails in the books ranging from 125 to 177 inches.
Tom is excited to work with Double Nickel Outdoors and put all of the great products to use in the field.  "Good luck on your hunting and fishing adventures," he says.
Fill out the form below if you would like to join the team!